Yonah Packs Minimalist Tenkara Gear
Yonah Packs is a small business started in the mountains of north Georgia. I came up with the idea when I couldn't find any tenkara or fly fishing bags on the market that suited my needs. So, I decided to design my own.  My core design principles are: Light, Simple, Easy
We want you to always be ready to get on the water and also only carry what you really need, no extra weight! Check out Our Story to learn more about us!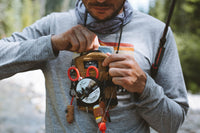 SIMPLICITY
If it doesn't fit, you don't need it.
We design our bags to carry only what you need, whether you're backpacking, day fishing, or bike fishing.
FUNCTIONALITY
Find everything easily while you're on the water. Keep all your tools where you want them for quick access.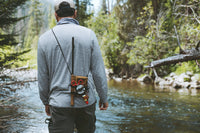 FLEXIBILITY
Our packs are designed to be carried multiple ways so you can be ready for any situation.
Our Tenkara Pack Materials
ULTRALIGHT WATER RESISTANT X-PAC
X-Pac is a light weight, water resistant, and durable fabric meant for abuse in the outdoors.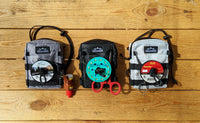 DYNEEMA COMPOSITE FABRIC
The highest strength to weight ratio on the market.
Extremely durable, water resistant and lightweight.